Opening Hours
We will be open from 10am to 5pm on both Saturday 23rd and Sunday 24th July 2022 subject to weather conditions.
The Entrance to this event is via the Portaferry Road.
THERE WILL BE NO ACCESS to this event via the Comber Road or Castlebawn Roundabout.
Tickets:
No tickets are required to attend this event.
Parking
FREE Parking is available on the airfield. There is plenty of room for everyone, next to the runway with a good view of the aircraft and you will be closer to the event! Please don't park on the Portaferry Road as this will clog up quickly. Feel free to bring your own picnic!
Disabled Parking
Spaces for Blue badge holders are available in our main car park and at the front of the field car parking and are first come first serve basis.
Toilet Facilities
We have toilets available inside the main clubhouse building and outside beside the windsock. There are baby changing facilities in the disabled toilet in the clubhouse.
Pedestrians
Access is available from the Portaferry Road to the event.
Public Transport
There are 2 bus stops around 100m from our Entrance (Shore Road or Bus Garage at Londonderry Park)
Saturday
Buses depart Newtownards Station at 10:00, 10:45, 11:45, 12:20, 12:55, and 14:05 towards Portaferry
Buses pass the airfield at 12:10, 12:40, 13:50, 14:10, 14:30, 16:00 and 16:40 towards the Town Centre
Sunday
Buses depart Newtownards Station at 11:25 and 13:20 towards Portaferry
Buses pass the airfield at 13:05 and 17:10 towards the Town Centre
ATM
There is no ATM available at the Ulster Flying Club and most vendors take cash for their activities. The nearest ATM is at the Texaco Petrol station on the Portaferry Road.
Dogs
Dogs are welcome at the event but must remain on a lead at all times. You are responsible for cleaning up your dog's mess. A fresh water supply is available beside the windsock.
DRONES
DRONES of any kind are strictly forbidden. You are at an Airport, it's probably not a wise idea to fly them here!
Catering

We have the following catering available:

Cloud 9 Café
Swift Catering – Burgers, Hot Dogs & Chips
Swift Catering – Southern Fried Chicken
Swift Catering – Ice Cream Van
Swift Catering – Dinky Donuts
Swift Catering – Teas, Coffees & Hot Chocolate
New Railway Bar – Mobile Bar & Sweet Shop
Ulster Flying Club
The Ulster Flying Club (UFC) will have a variety of aircraft on static display. We will also have a group of Flying Instructors available to discuss flying lessons. Our UFC Stall will be available for further information on the event and a shop selling flying equipment, ufc merchandise, toys and models.
::Flying Activities
-Airplane Flights
The Ulster Flying Club will be operating 20 scenic aircraft around the Ards Peninsula

20 Minutes – £60 in a 2 Seat aircraft for 1 person
20 Minutes – £75 in a 4 Seat aircraft for up to 3 people

Limited slots are available to purchase online – Click Here
-Helicopter Flights
Helipower will be operating helicopter flights throughout the day. More Info and prices available soon.
:: Activities
Bounce A Roos
A Variety of Kids activities and rides running through out the day. Prices vary depending on activity
Fun Fair Rides
Inflatable Land
Face Painting
Bubble Football
Zorb Balls
Obstacle Course Area
Bungee Trampolines

Crazy Golf

Ulster Aviation Society

RAF Cadets – 825 Squadron

Decoy Army

RAF Wings Collection

Ards Model Flying Club

Model Shop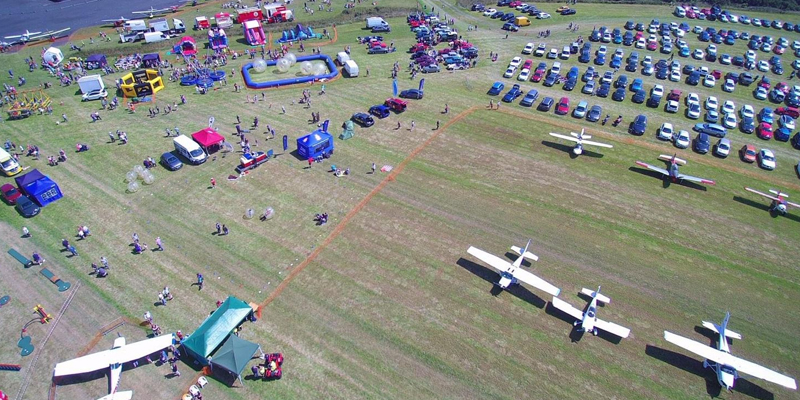 Charity Requests: The Ulster Flying Club has already selected its chosen charities for the 2022 event.

Vendor Requests: Click here

Contact Us: